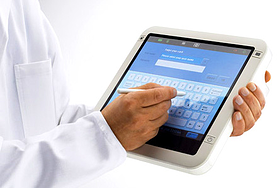 As a follow up to my recent post "Avoiding Payment Denials for Cloned Notes," the Centers for Medicare & Medicaid Services (CMS) has issued new instructions to Medicare Administrative Contractors (MAC's), Recovery Audit Contractors (RAC's), and Zone Program Integrity Contractors (ZPIC's) to look for claims generated from Electronic Health Records (EHR's) that do not contain adequate information.
Effective December 10, 2012, these instructions require auditors to review any relevant information connected to a claim in question created by EHR templates, and extract all information in connection to the payment of a claim.
CMS discourages the use of templates that provide limited options for the collection of information, such as check boxes or predefined answers, or limited space to enter information. "Claim review experience shows that that limited-space templates often fail to capture sufficient detailed clinical information to demonstrate that all coverage and coding requirements are met," CMS says in the revised instruction. "Physician(s) ... should be aware that templates designed to gather selected information focused primarily for reimbursement purposes are often insufficient to demonstrate that all coverage and coding requirements are met. This is often because these documents generally do not provide sufficient information to adequately show that the medical necessity criteria for the item/service are met."
As an example, a patient was recently released from the hospital and was able to view her chart online as a requirement of Meaningful Use, and she noted that one of the providers' notes were grossly overstated. It said she was physically examined when she wasn't, causing false information and a higher paid claim than the actual encounter warranted. Now keep in mind that most likely it was a result of desire to document the visit quickly and move on to the next patient. It could have been a result of simply a pull-down tab choice or any other variety of issues, including the provider's desire to over bill the insurance carrier. The point here is to keep in mind that errors happen, but now these claims are automated and can be transmitted quickly for payment. Some are errors and some are intentional fraud.
Providers should expect more scrutiny of their claims. EHR's can expedite documentation, but it will always be the provider's responsibility to ensure the documentation is accurate.