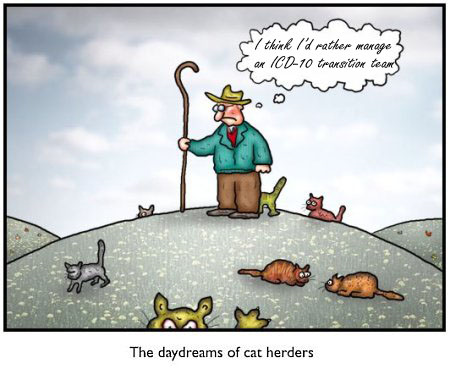 The healthcare industry is changing rapidly and providers are facing many new challenges, with ICD-10, meaningful use, and fee schedule reductions being only a few. If you feel like there are just too many cats in the herd, there is one area where you can take control of the situation, and that is by re-evaluating the effectiveness and adaptability of your billing function. Whether you have an in-house billing staff, or an outsourced revenue cycle management team, it's crucial to make an accurate assessment of the processes associated with your billing function to ensure that you are not part of the majority of practices expected to face serious cash flow problems when ICD-10 goes into effect next October.
Check your current procedures. Your coders and billers will need to be very familiar with anatomy and medical terminology in order to use the ICD-10 code set effectively. With the level of specificity in ICD-10, billers and coders need to understand what they are billing in order to receive proper reimbursements. Education, IT systems & software upgrades, EMR and data transmissions all need to be evaluated for their readiness well in advance of the ICD-10 implementation date. Make sure service vendors have transition plans in place, and get detailed information about their achievement of major milestones.
Prepare your staff and IT infrastructure, and make sure your vendors are preparing theirs. Everyone associated with your revenue cycle --including providers, billers and coders--will need to learn the new code set and how it's organized. The fact that IT systems and software packages will need updates and upgrades is a given, and billing programs, claim scrubbers, and EDI programs will all need upgrading. These utilities, when updated and installed properly, are capable of providing front-end rejections in seconds, vastly improving your first-pass rate while reducing denials, but not all upgrades will be within your authority to manage, so work closely with your vendors to monitor their readiness, too. Also, escrow monies to deal with potential hiccups in your reimbursements, and begin investing in these infrastructure changes—industry experts estimate that it can cost a practice upwards of $30K per provider to implement all the changes necessary to successfully navigate the ICD-10 transition.
Respond: Send your staff to anatomy and terminology seminars now, and have them start practicing with ICD-10. If you outsource your billing, their past performance is arguably the greatest predictor of future success (or failure). If you have in-house billing, how did they handle 5010? If either had problems with 5010, are you willing to take another chance on your income with ICD-10?
Your income doesn't have to take a nose dive because of technology or staffing. Use a billing service to help both you and your staff through transitions like 5010, ICD-10 and whatever else is coming down the road. Now is a good time to check, prepare and respond to the changing information technology in healthcare billing and coding, so your revenue cycle shouldn't face a major trauma. Of course, you could also partner with a revenue cycle management firm like Medical Billing Resources to help you through the maze of requirements and recommendations. It is said that there is safety in numbers, and billing services can offer economies of scale, saving you time and money, and ultimately, helping you thrive in the ever-changing healthcare environment.
(image courtesy of freetheanimal.org)