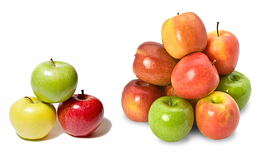 You worked hard to get through med school and specialty training, and you like to think it's all paying off in increased earnings because of your credentials. You're genuinely concerned for your patients, and take pride in providing the best cardiovascular care available. You can't imagine why anyone would opt to receive the same services from another provider who doesn't have the same c.v, especially when patients don't set payer rates, so why would you think you should settle for anything less out of your billing service?
The case studies below demonstrate how choosing a third-party billing partner with a certified cardiology coding staff can give your revenue a nudge in the right direction, while a lack of credentials leaves your bottom line sagging.
The players: Medical Billing Resources recently went head to head with another billing company at the behest of a prospect to see which could code most effectively. The outcomes were very different in the areas of coding compliance, accuracy, attention to detail, and net revenue. Medical Billing Resources has been in business over 15 years and has fewer than 25 employees. The company follows an operations model calling for one representative per account, bolstered by a network of colleagues and supervisory staff who collaborate to double check coding and work claims prior to submission. The Other Billing Company has over 50 employees and follows an assembly line model where each biller takes care of a certain stage of the revenue cycle. There are often lapses in communication between "departments," and billing is held up when more information is needed prior to submitting a claim. The cases presented involve billing, coding and reimbursement for cardiology patients.
Patient A was seen in August 2010. The procedures performed on this patient were ICD implant (33249); DFT testing (93641), Fluoroscopy (71090), and a SubQ ray implant (33999).
The Other Billing Company held the billing after requesting information on time spent to substantiate a 22 modifier, and did not include the SubQ ray implant.
| | |
| --- | --- |
| Procedure Code | Approved Fee |
| 33249-22, Q0 (if MR) | 813.81 |
| 93641-22, 26 | 293.79 |
| 71090-22, 26 | 22.49 |
| Total | 1130.09 |
Medical Billing Resources noted that use of the 22 modifier is not the appropriate way to bill for the SubQ ray implant. The CPT definition of the 22 modifier states that it should be used when the work required is substantially greater than typically required; that is, increased in intensity, time or difficulty. In this case, the provider should not be asking for additional monies based on extenuating circumstance, such as time spent above and beyond the normal scope for these codes. Subcutaneous tunneling is an additional procedure, and should be billed as an unlisted code.
| | |
| --- | --- |
| Procedure Code | Approved Fee |
| 33249-Q0 | 813.81 |
| 93641-26 | 293.79 |
| 71090-26 | 22.49 |
| 33999-26 | 700.00-1000.00 |
| Total | >2130.9 |
Medical Billing Resources felt the provider would be reimbursed substantially more this way because of the CPT definition of an unlisted procedure. According to that, if there is a code description that identifies what was actually done, the biller must use the code in the CPT book; however, if the procedure performed is not in the book, the biller can utilize the unlisted procedure code 33999 (unlisted cardiology procedure) for services rendered. Considering the procedure performed, we feel confident in charging $2000.00 for this unlisted procedure with anticipation of receiving $700 to $1000 for the service. This is considerably more than the $80 to $240 additional you would receive by using the 22 modifier. Billing in this manner tells the carrier that you want payment for an additional procedure -- not payment for performance above and beyond the scope of the three listed procedures.
The post op report indicated successful implantation of bi-vent ICD; however, the op note does not state whether or not the left ventricular lead was implanted, and the generator model number is for a dual chamber ICD, not a bi-vent. Based on this, the alert coder would recognize the option to add the 22 modifier as well. According to the report, the procedures performed according to the original codes, 33249, 93641, 71090 would have been considered to be above and beyond the normal scope for the procedures, but this requires that time spent be indicated in the report. Under such a circumstance you also must bill for the additional code.
Patient B: was seen in July 2010. Patient has Medicare and Blue Cross. The Other Billing Company held this billing for a confirmed diagnosis, and a more specific type, right or left heart failure, even though the hospital face sheet clearly states the diagnosis as heart failure. Also, because this is a bi-ventricular upgrade, per your billing service, which clearly states "left ventricular lead placement," left heart failure is unequivocally implied.
Here is the coding synopsis from The Other Billing Company:
| | |
| --- | --- |
| Procedure Code | Approved Fee |
| 33224 | 457.62 |
| 71090-26 | 22.49 |
| 93641-26 | 293.49 |
| Total: | 773.60 |
Here is the coded procedure set as submitted by Medical Billing Resources:
| | | |
| --- | --- | --- |
| Description | Procedure Code | Approved Fee |
| Removal of pacemaker generator | 33233 | 211.05 |
| Removal of right ventricular lead | 33234 | 435.17 |
| Insertion of ICD and rt ventricular lead | 33249, Q0 | 813.81 |
| Insertion of left ventricular lead | 33225 | 413.33 |
| Fluoroscopic guidance | 71090-26 | 22.49 |
| DFT testing | 93641-26 | 293.49 |
| | Total: | 2189.34 |
Because the provider had to insert a right ventricular lead, this is not an upgrade, but a complete implant.
Correct dictation is vital to receiving maximum reimbursement. Medicare states that "if it is not dictated or written, it is not done." The true definitions of CPT codes have key points that define those procedure codes. Therefore, these key points must be dictated. As an example, dictation of a complete EP study must include the following components:
Catheter placement to high right atrium, bundle of HIS, and right ventricular apex with program stimulation; and
Induction or attempted induction of arrhythmia.
Patient C: Now let's bring you into 2013 with add on codes. The physician performs angioplasty and stent placement in the proximal LAD, the diagonal branch 1, and the diagonal branch 2. Due to the patient history of noncompliance with medications, bare metal stents are used instead of drug-eluting stents.
The Other Billing Company coded this as 92928-LD
Medical Billing Resources, however, saw each component as the separate procedure that it was: 92928-LD, 92929-LD x 2, 92929-LD-59
The physician treated the LAD and two branches, so you should report three PCI codes. (Click here to download a quick guide of 2013 Cardiology PCI Codes). If the physician had treated a third branch of the LAD, it would not be reported separately. Drug-eluting stents were not used because this patient has a history of noncompliance with medication, and patients with drug-eluting stents must take anti-platelet medication following the procedure. Because drug eluting stents were not used, the physician and the hospital will report the same procedure codes in this case.
The Medical Billing Resources team of cardiology coders consists of CPC's (Certified Professional Coders), CCC's (Certified Cardiology Coders) and CGSC's (Certified General Surgery Coders). Our management and supervisory staff are also Certified ICD-10 Trainers, and one staff member will soon also become a CCVTC (Certified Cardiovascular and Thoracic Surgery Coder). Since we follow a whole-account client services model, we also dedicate each member of our cardiology team exclusively to billing and coding for cardiology procedures. Our coders are always updating their CEU's and skill sets with seminars all across the country.
The bottom line is increased revenue. We think it's clear that specialty coders make a difference. In these two case studies alone, The Other Billing Company only collected 44% of the practice's allowable reimbursement.
So how does it turn out? Here's the rest of the story: The medical practice did switch to Medical Billing Resources, and we have brought in $2.5 million in the first 5 months of 2013 compared to the same period of last year with The Other Billing Company. That's a 78% increase in revenue under similar conditions, providers, and patient volumes. Now this client is making money and no longer interested in selling their practice to the hospital. Not all billing services are created equal, hire one that knows your specialty the way you do.