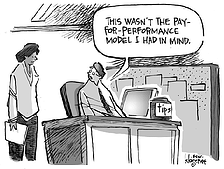 Historically, the United Stateshas paid for its healthcare under a fee-for-service (FFS) model. Every visit, test, procedure, and consultation receives an individual fee. It incentivizes volume over quality. It discourages integrated care. And it contributes toAmerica's high health care expenditures. There have been many attempts to reform our payment system – bundled payments, capitation, episode of care payment, comprehensive care payment – but as of 2009, no state has successfully eliminated the FFS system.
However, that does not mean new pay models aren't emerging. Pay-for-performance (P4P) was first launched by the Centers for Medicare and Medicaid Services (CMS) in April 2005. The project involved ten large, multi-specialty physician practices. After the first year of implementation, a report to Congress highlighted the model showed modest improvements in specific outcomes and increased efficiency, but, unfortunately, no cost savings were found due to added administrative requirements. Nevertheless, change was needed.
With the passage of the Affordable Care Act (ACA), the Hospital Value-Based Purchasing (HVBP) program was created to link Medicare's payment system to improve healthcare quality. For the first time, approximately 3,500 hospitals across the country will be paid for inpatient acute care services based on care quality. The total amount of value-based incentive payments available for distribution will be equal to the total base operating Diagnosis-Related Group (DRG) payments reduction. In Fiscal Year 2013, approximately 1 percent of DRG payments to eligible hospitals will be withheld to provide the estimated $800 million that will be allocated to hospitals based on their overall performance. This is based on a set of quality measures that have been shown to improve clinical processes of care and patient experience. HVBP seeks to improve quality and safety by: eliminating or reducing the occurrence of adverse events (healthcare errors resulting in patient harm), adopting evidence-based care standards and protocols that result in the best outcomes for the most patients, and re-engineering hospital processes that improve patients' experience of care.
Participating hospitals in the program started receiving incentive payments for providing high quality care or improving care after October 1, 2012.
Check back soon for an explanation on how hospitals are scored!