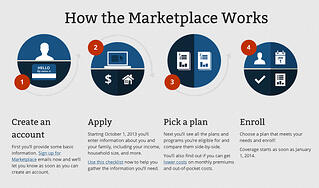 CMS Principal Deputy Administrator Andy Slavitt testified before the House Energy and Commerce Committee about a new report issued by the General Accounting Office (GAO) on CMS' management of the healthcare.gov website.
Slavitt stated that he expects to face a few bumps in next year's enrollment period, but that CMS is better prepared than it was last year. He also explained that the back-end systems of the federal Exchange are not yet ready, but by the end of the year insurance payments should be able to switch from the current manual system to a policy-level system.
The GAO report stated that CMS needs to improve management and oversight of contractors. It also warned that if CMS did not act on the report, next year's enrollment period could face similar failures to this year's.
According to the GAO report and Slavitt's testimony, CMS has spent $840 million on healthcare.gov, and the combined spending of all agencies on the website has reached $946 million. Accenture's contract for the website, which was awarded after criticism of CGI Federal, was originally estimated at $91 million, but has now risen to $175 million. CMS is looking for a new contractor to run the federal exchange next year, and applications are due September 18.
GAO also concluded that CMS "undertook the development of Healthcare.gov and its related
systems without effective planning or oversight practices, despite facing a number of challenges that increased both the level of risk and the need for effective oversight."
In response to the GAO criticism, CMS officials argued that developing a "first-of-its-kind"
federal marketplace was a complex effort with compressed time frames. In order to meet those compressed deadlines, CMS issued task orders to develop the federally facilitated marketplace (FFM) and federal data services hub (data hub) systems when key technical requirements were unknown, including the number and composition of states to be supported and, importantly, the number of potential enrollees.
Cost overruns were also inevitable because CMS used "cost-reimbursement contracts," which created additional risk because under such arrangements, CMS was required to pay the
contractor's allowable costs regardless of whether the system was completed.
Finally, CMS incurred significant cost increases, schedule slips, and delayed system functionality for the federally operated Exchanges because of the ever-changing technical requirements.
In the end, GAO concluded that, "Because of unclear guidance and inconsistent oversight, there was confusion about who had the authority to approve contractor requests to expend funds for additional work. New requirements and changing CMS decisions also led to delays and wasted contractor efforts. Moreover, CMS delayed key governance reviews, moving an assessment of FFM readiness from March to September 2013—just weeks before the launch—and did not receive required approvals. As a result, CMS launched Healthcare.gov without verification that it met performance requirements."