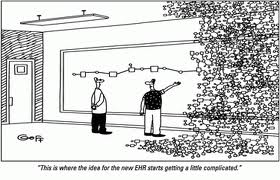 Following widespread discontent with the meaningful use program and EHR policies, the American Medical Association (AMA) has released a list of eight priorities to improve quality and usability during EHR adoption.

These priorities were developed by the AMA along with a committee of external advisers made up of physicians, health IT experts, researchers, and executives. The eight challenges and the AMA's suggested solutions are listed below.

In a related development, in August, CMS published a rule that allowed providers to attest to meaningful use using older versions of EHR technology if they did so by an October 1st deadline. This was an attempt to make compliance with meaningful use requirements easier. However, CMS won't be ready to accept evidence of providers' use of technology until mid-October, forcing providers to miss the deadline. This could cost these providers 1 percent of 2015 Medicare payments.

This revelation has further angered providers because of the high costs of initially adopting meaningful use technology. The number of providers who will be affected is unknown, but it is estimated to be in the thousands. CMS has not yet officially commented on the delay.
Below are the AMA's EHR priorities:

1. Enhance physicians' ability to provide high-quality patient care. Poor EHR design gets in the way of face-to-face interaction with patients because physicians are forced to spend more time documenting required information of questionable value. Features such as pop-up reminders, cumbersome menus and poor user interfaces can make EHRs far more time consuming than paper charts.

Instead, EHRs should be designed to enable physician-patient engagement. Technology should fit seamlessly into the practice and be based on work flow needs.

2. Support team-based care. Current technology often requires physicians to enter data or perform tasks that other team members should be empowered to complete. EHR systems instead should be designed to maximize each person's productivity in accordance with state licensure laws and allow physicians to delegate tasks as appropriate.

3. Promote care coordination. Transitioning patient care can be a challenge without full EHR interoperability and robust tracking. EHR systems need to automatically track referrals, consultations, orders and labs so physicians easily can follow the patient's progression throughout their care.

4. Offer product modularity and configurability. Few EHR systems are built to accommodate physicians' practice patterns and work flows, which vary depending on size, specialty and setting. Making EHR systems more modular would allow physicians to configure their health IT environment to best suit their work flows and patient populations. Allowing vendors to focus on specialized applications also would produce the tailored technology physicians need.
5. Reduce cognitive work load. Although physicians spend significant time navigating their EHR systems, many physicians say that the quality of the clinical narrative in paper charts is more succinct and reflective of the pertinent clinical information. A lack of context and overly structured data capture requirements, meanwhile, can make interpretation difficult.
EHRs need to support medical decision-making with concise, context-sensitive real-time data. To achieve this, IT developers may need to create sophisticated tools for reporting, analyzing data and supporting decisions. These tools should be customized for each practice environment.

6. Promote interoperability and data exchange. Data "lock in" is a common problem. EHR systems should facilitate connected health care across care settings and enable both exporting data and properly incorporating data from other systems. The end result should be a coherent longitudinal patient record that is built from various sources and can be accessed in real time.

7. Facilitate digital patient engagement. Most EHR systems are not designed to support digital patient engagement. But incorporating increased interoperability between EHR systems and patients' mobile technologies and telehealth technologies would be an asset for promoting health and wellness and managing chronic illnesses.

8. Expedite user input into product design and post-implementation feedback. The meaningful use program requires physicians to use certified EHR technology, but many of these products have performed poorly in real-world practice settings. EHR systems should give users an automated option to provide context-sensitive feedback that is used to improve system performance and safety.
NOTE: As this article was written, HBMA staff received word that CMS was working on a fix to this problem; however, at press time, that solution was not available for public announcement.
Thanks to Bill Finerfrock, Matt Reiter, Taylor Miller, Emma Goodson and Carolyn Bounds for contributing this article.