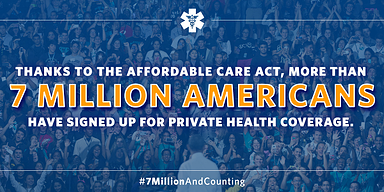 President Barack Obama celebrated the end of the Affordable Care Act's first open enrollment period by announcing that at least 7.1 million Americans have signed up for insurance through exchanges. "No, the Affordable Care Act hasn't fixed our long broken health care system, but this law has made our broken system a lot better," Obama said before a large and happy crowd Tuesday afternoon in the Rose Garden. The tally is based on the number of people who enrolled for coverage by Monday's deadline through the new federal insurance marketplace operating in three dozen states. It also includes people who enrolled in 14 state-run marketplaces as of the deadline or, in the case of a few states, by last weekend. The Census Bureau estimates that 47 million Americans went without health insurance last year, more than 15 percent of the population. White House press secretary Jay Carney said Tuesday that the administration expects that the final numbers will also show sharply higher enrollment by young adults, though demographic breakdowns by race or age will not be available for days or weeks, and he was unable to say how many of the enrollees were previously uninsured. The law's impact on the uninsured, he said, was intended to be measured over three years.
The administration must also look ahead to the next open enrollment season. The next open enrollment period starts Nov. 15 and is scheduled to end on Feb. 15, 2015. The Congressional Budget Office estimates that enrollment in the exchanges will grow to 13 million in 2015 and 22 million in 2016.
The Affordable Care Act seeks to change that by providing federally subsidized insurance on the online exchanges.