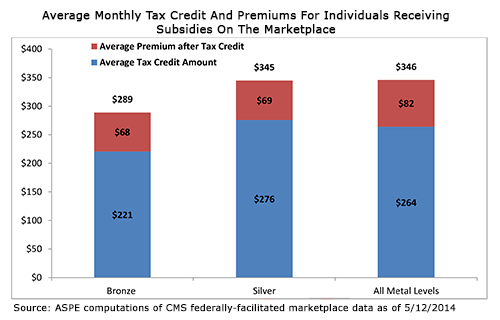 Federal officials on Wednesday released new data about who enrolled in the federal health marketplace plans for 2014, how much the law's subsidies helped offset the cost and how many plans people from could choose from, among other details.
Key points include:
– Individuals who enrolled in the health law's "silver" plans – the most popular in the federal marketplace – and qualified for tax subsidies to help finance coverage paid average monthly premiums of $69.
– Just under 70 percent of enrollees who picked a plan with tax credits had monthly premiums of $100 and 46 percent had premiums of $50 or less. Eighteen percent of consumers who qualified for tax credits had monthly premiums of $150 or more.
– Across all plan types – platinum, gold, silver and bronze – people who selected plans with tax subsidies saw their share of the premium decrease 76 percent, from $346 to $82 monthly.
– Consumers could choose coverage from an average of five health insurers and 47 plans. Eighty-two percent of people had 3 or more companies to choose from.
– No matter what level of coverage consumers selected on the federal exchange, they tended to pick the plans with the lowest premiums. The lowest or second-lowest plan accounted for 60 percent or more of plan selections in the bronze, silver and platinum metal levels, 54 percent in the gold metal level and 93 percent in the catastrophic level.
– While 266 insurers offered more than 19,000 plans across the country, the number of insurers in any particular state varied, with a low of one insurer in New Hampshire and West Virginia to a high of 16 in New York.
"Early reports from the states suggest that additional issuers will be entering the marketplace in 2015," according to the report, but the process is ongoing and preliminary rate submissions could change.
"What we're finding is the marketplace is working. Consumers have more choices, and they're paying less for their premiums," Health and Human Services Secretary Sylvia Burwell said in a statement.
Officials who worked on the report refused to speak on the record or discuss the potential effect of the subsidies on the long-term cost of the healthcare law.
Although the law's costs have thus far been lower than projected, some experts question whether the subsidies will be sustainable.
The Congressional Budget Office estimated in April that the annual cost of subsidies will rise to $23 billion next year and $95 billion in 2024, although the budget office continued to project that all the law's costs will be offset by additional revenue it raises and by cuts in other federal healthcare spending.