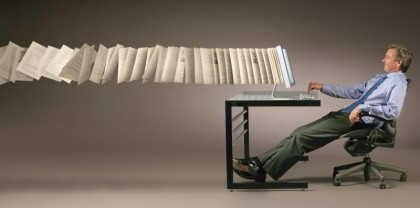 With the advent of Electronic Medical Records implementation industry wide, it is likely that you too have taken the plunge and purchased an electronic solution for your practice's patient management. But once you've purchased your Electronic Medical Record (EMR) you will also have to decide what to do with your existing patient files, and figure out the best way to use them in conjunction with your new EMR. When beginning any medical chart conversion effort, it is important to make sure the information you're loading into your EMR will be of the most value to you on a day to day basis. It's a good idea to determine which patients are active, and which are no longer likely to seek care from your practice. In most cases, patients who have not been in to seek care for a period of 18 to 24 months would be classified as inactive. In the case of these patients, it doesn't make sense to spend a lot of time and energy importing their charts to the EMR, so records for these patients can be moved to your archives, and retrieved in the event they do happen to return for care. You can then convert the chart prior to their visit, and have the information in the electronic format when they come back.
Even though it seems a gargantuan task to import those active patient files to an EMR, doing so at the initial stages of EMR conversion will provide significant benefits over time. Effective use of an EMR offers ease of information retrieval, greatly reduced need for physical storage space, reduced risk of incorrect interpretation of diagnosis, treatment and prescription information, and easy portability.
There are multiple ways to migrate from paper charts to electronic records. As the practice principal(s), it will be up to you to establish short- and long-term goals for use of your EMR, and then choose the method that will fit your plan best. You can manually enter each patient's information into the EMR, scan images of pages from the paper chart into the system, or even contract for an electronic migration from one system to the new EMR. Each of these methods has its own benefits, detriments and planning implications, but you can determine which method or combination of methods will work best for your particular situation.
Manual entry of information into the EMR from paper records takes more time than other methods, and therefore costs more in hard labor costs; however, it may be the most thorough and effective method of chart conversion. Since this method involves a human culling information from the paper chart and selecting how and where it will be inserted into the electronic record, the information available from the EMR will be easier to follow and use immediately following the conversion itself for each patient. The biggest obstacle in this situation seems to be deciding which information to transfer, and which can be archived with the paper record after the EMR implementation. At minimum, most providers need at least the following information:
Current Diagnoses
Chronic Conditions
Current Lab/Test Results
Vital Signs
Current Medications
Past Surgeries or Severe Illnesses
Current Referrals
Preventive Health Maintenance
Current Treatments
Significant Family Medical History
Allergies & Sensitivities
In addition, it is also wise for the practice principals and providers to establish how much history to include in the new record. For some patients, information that is over 2 or 3 years old is simply no longer useful or relevant to providing excellent ongoing care, but for other patients, or in certain specialties, a longer history may be appropriate. It all depends on how often providers need to refer back to treatment, diagnosis, and other older information for patients in specific health categories.
Scanning pages from the paper patient chart is a relatively simple method of capturing electronic images and storing them for reference, but it does not generally enhance the provider's ability to use the EMR for effective data storage and retrieval. Even though it's easy to view these pages within the EMR, scanning stores the PHI as images rather than as separate data elements, which limits its usefulness within the EMR for recalling particular bits of information, making the provider visually search each page until he or she finds the piece of information sought. In general, it might be better to use scanning for storing actual images (x-rays and surgical photos) instead of trying to use it for data that can be really useful when imported with an appropriate data type attached.
A third way to import data into the new EMR would apply more to practices that have much of their patient data in another electronic format, such as a billing program or scheduling or practice management suite. Electronic conversion provides a purely automated process for capturing data (usually demographics) from an older system and transferring it into the new EMR. This solution can really expedite the loading of large volumes of historical data efficiently and accurately into a new system, but it can be very expensive and time-consuming itself because many older systems are simply not equipped with appropriate exporting capabilities. In these situations, it can be necessary to use some finesse when negotiating with the vendor of the old system to gain maximum cooperation to create thorough, usable export files.
Any practice should put some time and thought into making the decision of which method to use for its transition to a new EMR, and deliberations should take into consideration the time and costs related to implementation via any of these methods. Most practices will likely use a combination of methods for importing information into the new EMR, and will also likely use both their old system and their new system when seeing patients for a while. This seems to be the least costly hybrid, as the paper file is available for historical data, and new data is entered directly into the electronic record. While it can be reasonable to refer to both records for a set period of time, each practice should also establish a conversion completion date after which they will declare the EMR to be the solitary source of patient information, and when the paper charts are all archived to be stored for the required number of years. Only after this deadline has been met will the practice then be able to assert that their conversion to EMR is complete. If approached with the proper planning and patience, converting to an electronic medical record system can be an organized, orderly process that benefits the practice in untold ways for years to come.