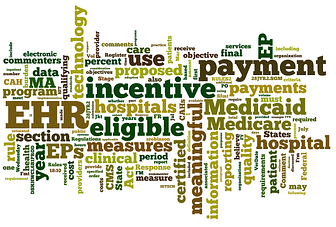 On Thursday, August 23, 2012, U.S. Department of Health and Human Services Secretary Kathleen Sebelius announced that the Centers for Medicare & Medicaid Services (CMS) published the final rule for Stage 2 Meaningful Use for the Electronic Health Record (EHR) Incentive Programs. The rule provides new criteria that eligible professionals (EPs), eligible hospitals, and critical access hospitals (CAHs) must meet in order to successfully participate in the EHR Incentive Programs.
These requirements are spelled out in our free white paper, "Meaningful Use Made Easy," but have been augmented with the changes announced last week. In making the announcement, Sebelius said, "The changes we are announcing today will lead to more coordination of patient care, reduced medical errors, elimination of duplicate screenings and tests and greater patient engagement in their own care."
The new rule consolidates several existing Meaningful Use objectives while adding some new objectives for Stage II. There will be a total of 20 measures EPs will need to qualify for incentive payments - 17 core and 3 menu.
According to HHS, the requirements for Stage 2:
Qualifying for Stage 2 will begin in 2014. No providers will be required to follow the Stage 2 requirements outlined before 2014.
Outline the criteria for certification of EHR technology, so eligible professionals and hospitals may be assured that the systems they use will work, help them meaningfully use health information technology, and qualify for incentive payments
For Eligible Professionals, CMS is mandating a new Core Objective - Use secure electronic messaging to communicate with patients on relevant health information.
Modify the certification program to cut red tape and make the certification process more efficient
Allow current "2011 Edition Certified EHR Technology" to be used until 2014
The Stage II rule also delays the onset of Stage II criteria. Any provider that attests to Stage I of meaningful use in 2011 or 2012 will automatically attest to Stage II in 2014 instead of 2013. Therefore providers will not be required to demonstrate Stage II meaningful use before 2014.
Visit the EHR Incentive Programs Website for the latest news and updates on the EHR Incentive Programs.