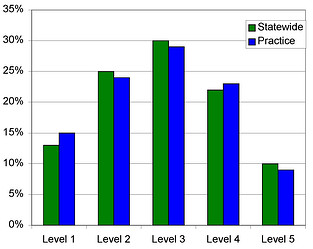 Managing a successful medical practice involves more than just practicing medicine. You must also view it as a successful business, and put into place sound business practices, as well. Many providers are seeing their revenues decline as payers are reducing fee schedules, so it's more important than ever to collect every dollar that you're entitled to, and to manage how you budget that revenue to keep your practice running in the black.
It's instinctive to respond to a revenue drop by cutting staff or expenses, or by adding heavily to the patient load. True, it may make sense to make one or a combination of these changes in order to return to a healthy, but it's important to make informed decisions about what to add, what to cut, and where. The process of arriving at answers to these questions is often referred to as "benchmarking," which essentially provides a business comparison between your practice and your peers.
Benchmarking can be simple or complicated, fun or frustrating. It can be as easy as comparing one provider's productivity to another's, or seeing if you have too much staff. Businesses use benchmarking to determine:
What they're doing
How they're doing it
How others do it
How well they're doing in relation to others in the industry, and
What and how to improve
Analysts (that's you!) typically gather data and perform benchmarking comparisons to assess two main areas of their businesses: operational or revenue-related. Of course, this boils down to simple math: "pluses" and "minuses," or "money in," and "money out."
Operational benchmarking typically includes everything that falls under the umbrella of "expenses," from productivity to staffing. All these factors impact efficiency, which is the ability to perform a task better, faster, and cheaper than your peers. The more efficiently your practice operates, the cheaper it will be to run, and may even enable you to see more patients without hiring additional staff. Maybe automation can perform tasks currently being performed manually, freeing staff to focus on patient care.
Revenue benchmarking looks at everything in the "income" column, from reimbursements, claim rejections, and denials, to collection rates, E&M coding statistics, and the overall financial health of the practice. For example net collections, simply stated, indicates what percentage the practice is actually collecting. Having a net collection rate above 95 percent denotes a healthy practice.
In order to dispel any notion you may have that analyzing benchmarks is somehow complicated or daunting, try to think of it as a group open-book exam. There is no time limit to complete it beyond the shelf-life of the benchmark data you gather about the industry outside your own practice, since you presumably have access to your own most up-to-date numbers. Pick a couple of processes from each side of the ledger to start, and make sure they are areas that you will have a reasonably good chance of improving from within, should it become apparent that you do need to improve. Choose areas that have appreciable, direct relationships to four main areas of your practice's revenue and expense activities, namely:
Patients (number of patients you can see and deliver the best care possible)
Principal provider's return on investment (i.e. doctor income)
Budget and the cost of doing business, and
Strengths, weaknesses, opportunities, and threats (SWOTs)
Benchmarking compares your practice to others, but also allows a practice to set goals. It enables you to identify and measure inefficiencies, and target them for improvement. Industry standards are available from the American Medical Association (AMA), Medical Group Management Association (MGMA), American Health Information Management Association (AHIMA), and Healthcare Billing & Management Association (HBMA). Another great source of educational materials is "Physicians Practice," a website dedicated, well, to helping physicians…practice… You may have to purchase reports containing standards or join some of these organizations to gain access to the information, but it will be worth the effort.
Even if you believe it's wise to perform a benchmark analysis, some may still feel unqualified to perform the task, or simply not have the time--or not want to spend the time--to do it. For those people, there is another reasonable option to have their proverbial cake and eat it too. Many billing services, including Medical Billing Resources, routinely compare clients' key performance indicators (numbers that make up benchmarking figures) with local and national standards. If you need to become more efficient, but are just not sure where to begin, performing or commissioning a benchmarking analysis can help you concentrate your efforts. And it's okay to farm it out if you just can't or just won't do it. Either way, now more than ever, information is power; and using the information available to improve the financial health of your practice will ensure that you are able to continue to pursue practicing medicine for years to come.