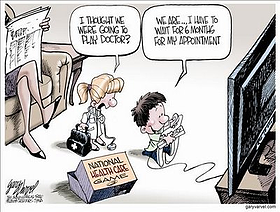 Continuing our series on the key features of the Affordable Care Act, we will now look into the changes that took effect in 2010 that sought to increase access to affordable healthcare. As previously mentioned, the Patient Protection and Affordable Care Act was signed by President Obama on March 23, 2010. The law aims to increase the quality and affordability of health insurance, lower the uninsured rate, and reduce the costs of healthcare for individuals and the government. However, a number of the mechanisms – mandates, subsidies, and insurance exchanges – are to be rolled out over four years and beyond. Below is an overview of some of the key provisions aimed to increase access that took effect in 2010.
Increasing Access to Affordable Care
The ACA expands coverage to early retirees. Many Americans retire before they are eligible for Medicare, resulting in a significant reduction of their life savings due to the high cost of individual insurance. Most employers want to honor the men and women who powered their businesses by providing their retirees with quality benefits but are increasingly forced to stay competitive by reducing costs instead. Starting on June 1st, 2010, applicants were able to apply to the Early Retiree Reinsurance Program. The ACA created this $5 billion program to provide financial help for employment-based plans to continue to provide valuable coverage to people who retire between the ages of 55 and 65.
The United Stateshas a shortage of primary care physicians. Over $230 million has been provided to increase the number of medical residents, as well as nurse practitioners and physician assistants, to train in primary care. Some of the incentives include funding for scholarships and loan repayments for primary care doctors and nurses practicing in underserved areas. In addition, the law nearly triples the National Health Service Corps – a group of nearly 10,000 physicians helping over 10.4 million Americans.
Over sixty-eight percent of the medically underserved communities across the nation are located in rural areas. These communities often have trouble attracting and retaining medical professionals. To help improve access, the ACA provides increased payments to rural health providers. Increased fee schedules took effect in 2010.
States will be able to receive federal matching funds for covering some additional low-income individuals and families under Medicaid for whom federal funds were not previously available. States were able to apply for Medicaid expansion in April of 2010, with the program taking effect in 2014. However, due to a Supreme Court ruling that gave States the right to opt out of Medicaid expansion, only 25 states and the District of Columbia have expanded coverage, with 21 states not expanding at this time and four states still considering. The expansion includes individuals between the ages of 19 and 65 with incomes up to 138% of the Federal Poverty Line.
Additional information can be found at the U.S. Department of Health and Human Services website: www.hhs.gov/healthcare