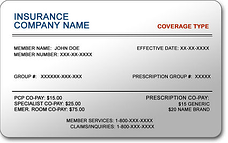 Beginning January 1, 2014, providers will be verifying their patient's insurance status when they show up for their appointments. Many of these patients may be newly insured individuals who will be getting their health insurance through the Health Insurance Marketplace, also known as Health Insurance Exchange.
Due to the on-going problems with the federal Exchange, many of these individuals may have only signed up for insurance within the last few days of 2013. HHS is reporting that there was a surge of enrollments in the last week. Insurers are also reporting inaccurate enrollment information so there may be considerable confusion during the first few weeks of 2014 in terms of the insured status of some newly enrolled individuals.
Because of these late enrollments, HHS is warning that many of these individuals "may not have received their card yet or they may be unaware of the need to carry their insurance information."
For all of these reasons, providers are strongly encouraged to verify the patient's coverage status.
The Department of Health and Human Services offers the following advice:
How do you verify their coverage?
If the marketplace in the state where the patient purchased insurance is run by the federal government, it is best to call the plan's customer service line. A list of all plans and their customer service numbers can be found in this data base. Here's a fact sheet for using the data base. If you can't find the number, call the Marketplace Call Center (1-800-318-2596).
If the marketplace in the state where the patient purchased insurance is run by the state, contact that state. To find the website for the state-run exchanges, select the name of the state in the box at the left hand side of the healthcare.gov website.
Providers should remember that many of the people who will be newly insured are not familiar with certain terms and or terminology common in health insurance. For example, many newly insured patients may not understand the difference between the deductible, co-insurance and co-pay. Therefore, providers are encouraged to remind their patients to keep all of their paperwork and receipts from all of their doctor's appointments and from the pharmacy as well. Newly insured patients (and some previously insured) may not understand how deductibles are calculated, for example. Finally, your providers may want to remind their patients to always carry their health insurance card at all times.
If the patients do not have an insurance card, they should be encouraged to contact their plan to get a card.
Finally, if you have patients who are still uninsured after January 1, 2014, you may want to remind them that they have until March 31st to sign up for non-employer based coverage. They can go to HealthCare.gov to sign up for a plan and apply for financial assistance.
Thanks to Bill Finerfrock, Zhaneta Mansaku, Kirk Shields for writing this piece.