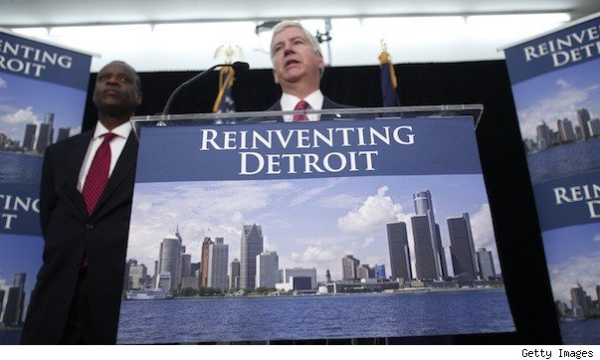 The city of Detroit and its retirees have reached an agreement in a health insurance dispute that may end a lawsuit against the city. Retirees filed suit in November to stop the city from shifting them to Medicare and giving those under age 65 a $125 monthly stipend to buy their own insurance. The parties reached an agreement in principle Thursday night covering benefits through the end of 2014, mediators in Detroit's bankruptcy said Friday in a statement. Some features of the deal include the increase to $300 in the monthly stipend for retirees over age 65 who aren't eligible for Medicare. The stipend for retirees under age 65 will be increased to $175 if the household income is less than $75,000 and the retiree acquires insurance under a health care exchange. The stipend is $50 more than the amount proposed last year by emergency manager Kevyn Orr. A lawsuit retiree groups filed in bankruptcy court Jan. 9 challenging the city's plan to slash benefits will be dismissed as a result of the settlement, according to a statement from the Detroit bankruptcy court mediators.
The settlement provides the following additional benefits to the coverage plans the city announced in early January:
■ Retirees under 65 with annual household income of less than $75,000 will get a $175 per month stipend to buy health care coverage. Another option would allow those under 65 to receive a $100-discount on coverage from a new city-sponsored health care plan instead of the stipend. The new health care plan is unrelated to Detroit VEBA, a health care trust to manage retiree insurance benefits that is described in a draft of the city's plan of adjustment.
■ Retirees under 65 with household incomes of $75,000 or more will receive a $125 stipend to pay for health care.
■ A retiree's spouse who is not eligible for Medicare and purchases coverage under the exchanges created by the Affordable Care Act will receive a $125 stipend if the retiree's annual household income is less than $75,000.
■ For Medicare-eligible retirees enrolled in one of the city-sponsored Medicare Advantage Plans, certain "catastrophic" out-of-pocket drug costs, which have not yet been specified, will be reimbursed.
Additional information can be found through the DFP.