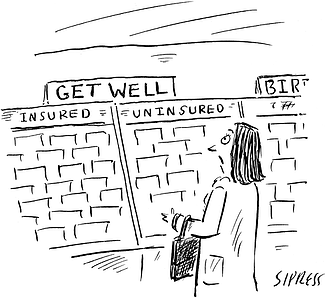 As Monday's deadline to sign up for health insurance or face a penalty approaches, there's plenty of attention on the uninsured. But how about the underinsured? A new report finds that 32 million people were underinsured in the U.S. in 2012, meaning their health insurance didn't do enough to protect them from major medical costs, according to a new report from the Commonwealth Fund. That makes for 80 million Americans who either have no health insurance at all, or who don't have enough, the report finds. The Affordable Care Act insurance reforms seek to expand coverage and to improve the affordability of care and premiums.
Those most likely to miss out on these reforms will be people living in states that choose not to expand Medicaid, said the group, which advocates for health reform.
"This report demonstrates that the health reform law was accurately targeted toward the needs of the uninsured and underinsured," Commonwealth Fund senior vice president Cathy Schoen, who led the team writing the report, said in a statement. "However, if all states don't expand Medicaid, millions will still go without health insurance and health care."
The 2010 Affordable Care Act (ACA) was designed to help get health insurance to the 16 percent of the U.S. population who did not have it, and to improve the insurance coverage for millions of others with less-than-comprehensive coverage.
It aims to do so by providing heavily subsidized private insurance via online exchanges, and by using federal dollars to underwrite a big expansion of the Medicaid health insurance plan for low-income people to more adults. But 20 states, all Republican-controlled, have said they won't do it.
Adding these "underinsured" people to the estimated 47.3 million uninsured, the state share of the population at risk for not being able to afford care ranged from 14 percent in Massachusetts to 36 percent to 38 percent in Idaho, Florida, Nevada, New Mexico, and Texas. Nationally, more than half of people with low incomes and 20 percent of those with middle incomes were either underinsured or uninsured in 2012.
The figures are from before individuals could buy insurance on Affordable Care Act exchanges, but some say the problem persists.
The full report can be found here.