Monday is the last day of March and it's also the last day to sign up for insurance through healthcare.gov!
Sunday evening, Health and Human Services announced 2 million visits over the weekend to Healthc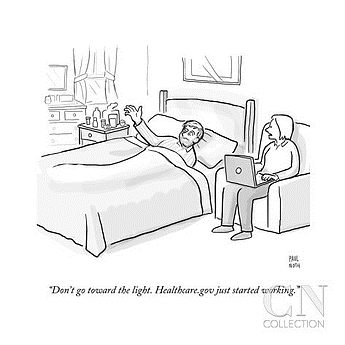 are.gov, with 1.5 million visitors on Friday — a near-record level — and reported no significant delays or problems. Insurers are pressing ahead with a final marketing push to bring as many young, healthy customers as possible onto their rolls and buttress a recent surge in health-law enrollments as well. Highmark Inc., a major health plan based in Pittsburgh, said in recent weeks that it had seen a "marked increased" in enrollees younger than 34. Blue Cross & Blue Shield of Rhode Island said its fastest-rising segment in March has been people ages 22 to 40. Leading up to the deadline, President Barack Obama, Vice President Joe Biden, cabinet secretaries and other surrogates have done more than 300 radio interviews, attended 45 enrollment events and appeared in videos that have collectively gotten 33 million hits over the last six weeks.
To sign up, go to www.healthcare.gov