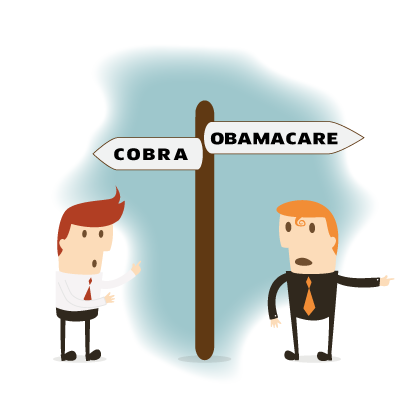 The Obama administration on Friday announced updates to model notices informing workers of their eligibility to continue health-care coverage through the Consolidated Omnibus Budget Reconciliation Act, or Cobra. The updates make it clear to workers that if they are eligible for COBRA continuation coverage when leaving a job, they may choose to instead purchase coverage through the Health Insurance Marketplace.
Since employers often pay the majority of workers' premiums, the cost of continuing coverage often came as a shock to people, although some elected to bear the expense anyway because they needed to continue receiving care.
The Department of Labor and Department of Health and Human Services set new guidance for employers on Friday requiring them to tell workers who lose their employer-sponsored insurance about new options to get coverage on their own, as well as their eligibility for Cobra.
Workers and their families who are eligible for employer-sponsored coverage generally must be informed of their right to COBRA continuation coverage at the start of employment. They must also be informed of their right to purchase COBRA coverage when separating from a job. The proposed changes to the model notices would offer information on more affordable options available through the Marketplace, where workers and families may be eligible for financial assistance that would not otherwise be available for COBRA continuation coverage. In most cases, workers and their families eligible for, but not enrolled in, COBRA continuation coverage would be able to enroll in Marketplace coverage outside of the normal open enrollment period.
Many people may consider getting coverage through the exchanges more advantageous than paying Cobra, since they could qualify for tax credits from the federal government to offset the cost of their premiums. The value of those tax credits is tied to their household income, and while unemployment compensation counts as income, the subsidies could offset the cost of the plan.
But others, who may want to stay with doctors and hospitals that aren't part of the networks of insurers selling on the new exchanges, could consider Cobra to be a preferable option.