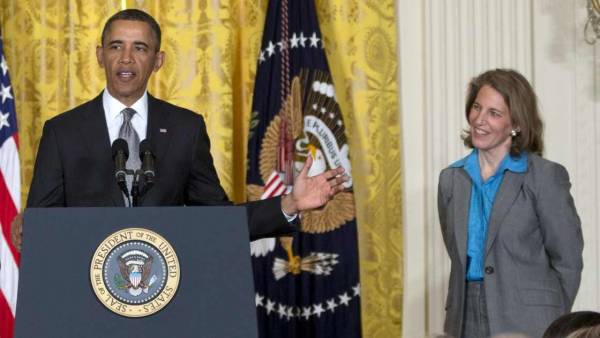 On April 11, Health and Human Services Secretary Kathleen Sebelius announced her resignation, after five years of serving the Obama administration. At a Rose Garden ceremony, President Obama praised the outgoing Sebelius and declared that she would "go down in history" as the health and human services secretary serving when the country "finally declared that quality affordable healthcare is not a privilege, but a right for every single citizen".
Sebelius, the former governor of Kansas, and, before that, state insurance commissioner, has served as the HHS Secretary since shortly after President Obama came into office in 2009 and was instrumental in the transition and implementation of the Affordable Care Act (ACA). However, Sebelius' tenure was marred by technical problems that crippled HealthaCare.gov, the website set up to enroll Americans in insurance exchanges, for which she received harsh criticism.
Sebelius had notified the President in early March of her plans to resign. She felt that the Affordable Care Act trajectory was back on track, after a rough start, and believed "that once open enrollment ended it would be the right time to transition the Department to new leadership."
To replace Sebelius, President Obama nominated the Director of the Office of Management and Budget, Sylvia Mathews Burwell, calling her "a proven manager" who knows how to get results. If confirmed, Burwell, would bring a background in economics and management to the health position. Burwell, is a former president of the Bill and Melinda Gates foundation, and former president of the Wal Mart foundation. She has served as deputy White House chief of staff during the Clinton administration and in top roles at the Treasury Department and the National Economic Council. Burwell has been heading the Office of Management and Budget for approximately one year.
If confirmed as HHS Secretary, Burwell will face the challenges of keeping the complex agency running smoothly and having to ensure that the next open enrollment period on the health insurance exchanges goes more smoothly than the last.
Thanks to Bill Finerfrock, Matt Reiter, Lara Burt and Carolyn Bounds for contributing this article.