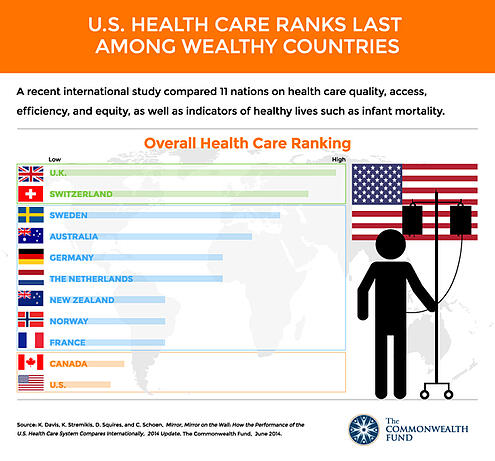 The latest look at the U.S. health care system compared to other rich countries shows — yet again — that the United States comes in dead last.
Americans spend far more per person on medical care, yet are less healthy than people in 10 other countries. The system is less fair than systems in other rich countries and it's far less efficient, ranking last of 11 nations, the Commonwealth Fund report reads.
The nonprofit Commonwealth Fund has been publishing its report — based on data from the World Health Organization, the Organization for Economic Cooperation and Development and its own research — for a decade.
The report from the private health care research foundation examined data on expenditures, delivery and access to health care services among 11 industrialized countries: Australia, Canada, France, Germany, the Netherlands, New Zealand, Norway, Sweden, Switzerland, the U.K. and the U.S.
Overall, the U.K. and Switzerland were rated highest for factors that included quality, access, efficiency and equity of health care. The U.S., Canada and France overall ranked lowest. The U.S. was found to perform worst in areas concerning cost of care, efficiency, equity and overall health of its citizens, even though health care expenditures were highest per capita compared with the other 10 countries in the report.
In 2011, the U.S. spent $8,508 per capita in health care expenditures, compared with $3,405 per capita in the U.K., which was the country with the highest ranked health care system overall.
Americans aren't living any longer, either. "The U.S. and U.K. had much higher death rates in 2007 from conditions amenable to medical care than some of the other countries, e.g., rates 25 percent to 50 percent higher than Australia and Sweden. Overall, France, Sweden, and Switzerland rank highest on healthy lives," the report reads.
Though the Affordable Care Act "is increasing the number of Americans with coverage and improving access to care," the latest survey relied on data from before the law was implemented fully. Still, the ACA "will further encourage the efficient organization and delivery of health care, as well as investment in important preventive and population health measures."
The survey included questionnaires from patients and doctors, along with data from the World Health Organization and the Organization for Economic Cooperation and Development. It also contains results from recent Commonwealth Fund surveys of patients and primary care doctors and how they view their countries' health systems.