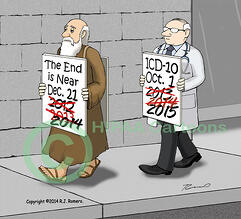 On August 22 the Centers for Medicare and Medicaid Services (CMS) announced that it would instruct Medicare Administrative Contractors (MACs) to hold three acknowledgement testing weeks for providers to prepare for the switch to ICD-10.
Although CMS had previously announced that there would be three testing weeks, this announcement provides the specific dates for the front-end testing.
The three weeks are:
November 17 – 21, 2014
March 2 – 6, 2015
June 1 – 5, 2015
The purpose of these weeks is for providers to test readiness, to raise awareness, and to collect data for CMS. All providers must make the switch to ICD-10 by October 1, 2015. At this time, these testing weeks are for front-end, acknowledgement testing only.
Although providers can request acknowledgement testing with the Medicare any time through implementation, these three weeks were identified by CMS to raise awareness and increase confidence among providers that CMS is ready for the transition.
In making this announcement, CMS asked organizations to emphasize the following points:
1. Test claims with ICD-10 codes must be submitted with current dates of service since testing does not support future dates of service;
2. Claims will be subject to existing NPI validation edits;
3. MACs and CEDI will be staffed to handle increased call volume during this week;
4. Test claims will receive the 277CA or 999 acknowledgement, as appropriate, to confirm that the claim was accepted or rejected by Medicare;
5. Test claims will be subject to all existing EDI front-end edits, including Submitter authentication and NPI validation;
6. Testing will not confirm claim payment or produce a remittance advice.
CMS wants to assure providers and billing companies that MACs and CEDI will be appropriately staffed to handle increased call volume on their Electronic Data Interchange (EDI) help desk numbers, especially during the hours of 9:00 a.m. to 4:00 p.m. local MAC time, during the testing weeks.
Each of the MACs has been instructed to promote these testing weeks via their listserv messages and their website in the days and weeks leading up to the testing periods. If you have any questions about this, you are encouraged to contact the MAC that handles and processes Medicare claims for your clients.